Mary Southard is a life-adventurer fascinated by the wonder and creativity of the cosmos, most especially our Earth. Her unique art explores the great gift of existence with all its beauty and longing, its passion and mystery. Mary was the 'Founding Seed-Bearer' for Sisters of Earth in 1993 when she encountered Sisters on her retreats who longed for such a network. She went on to discuss this with Mary Lou Dolan, CSJ and Toni Nash, CSJ who were working at Spiritearth in 1993.
As the artist-self this is a draft logo she designed for Sisters of Earth, depicting the crone, the mother and the maiden: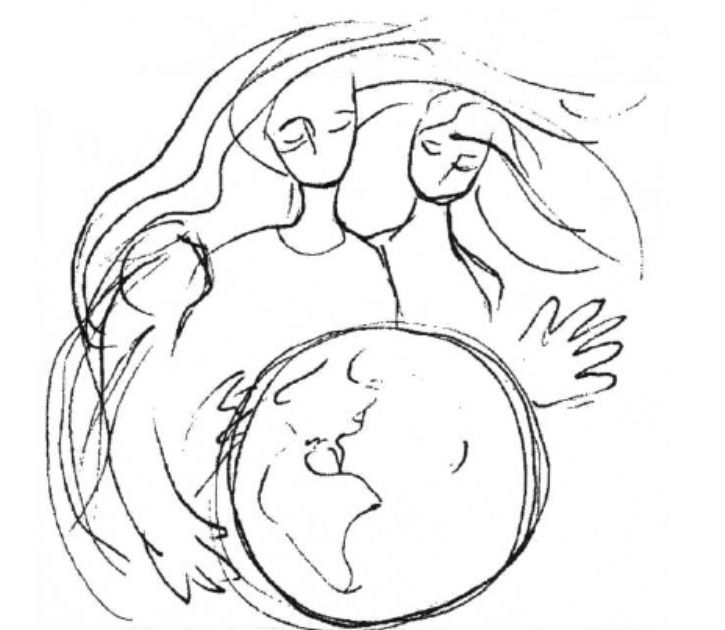 In addition to being a professional artist, Mary is also an experienced educator, retreat director, and spiritual companion. She delights in being with others as they awaken to new dimensions of their creativity.
Mary's art commissions and program work have taken her to many places in the US, Canada, Europe, and Australia. Publications include a yearly art/meditation calendar currently distributed around the world, book and journal illustrations, and book cover art.
Mary Southard Art Facebook Page
Mary lives and has her studio in the Congregation of St. Joseph La Grange Park Center, located in La Grange Park, Illinois.
In her own words is the story of the emergence of Sisters of Earth:
"The year after I "met" Thomas Berry CP, at the summer Colloquium in Port Burwell Ontario, I was determined to find a place where I could "live on the land and learn from the Earth." This had been my personal dream for quite some years. That fall, I was able to live on a "retired" farm in hilly Wisconsin which was just acquired by a cousin of one of our Sisters for a "summer place" in the country. That same winter John Surette SJ, began looking for a place to start a Center for Ecology and Spirituality and asked that if he found a place, would I come for three years to help him start such a ministry.
"The following fall, 1990-91 we began SpiritEarth in Dover MA, at a Dominican Retreat House there. For our first classes we used Brian Swimme's CANTICLE TO THE COSMOS, and began doing programs and retreats for various groups in the New England area. (Maureen Wild was in this very first group and took the ball and ran with it … in her teaching, in the way she professed her final vows, in her degree program …)
"By the second year we had moved to Millis MA and were receiving visits and communications from women religious who were also passionate about this need and vision, some who wanted to be hired by SpiritEarth to do this kind of work — including Mary Lou Dolan CSJ, Toni Nash CSJ, who soon did, and Gail Worcelo CP who had been taught by Thomas Berry and then made her final vows in a cosmological context. Others were exploring how they could get "Earth Spirituality" into their Congregational visions, goals, land usage, and open such Centers in their areas.
"With this awareness I continued to teach my class: "Universe Story—Our Story" at Loyola University in Chicago the following summer. And realized that in the enthusiastic response of the students--missionaries, women religious, and others, that there was a new awareness growing. On the way home after one of the classes, driving down Lake Shore Drive, I was sharing that with Evie Sommers who was part of the class, that for whatever reason, and through their marvelous networks, we "Sisters" could support, inspire, and encourage one another in our evolving efforts.
"Then:
"Returning to Spiritearth Mary Lou, Toni, and I found ourselves thinking about planning such a gathering. Gail was invited into the conversation and soon we knew it could be held at St. Gabriel's Passionist Monastery in Clark's Summit, PA, where she lived. At that first meeting we shared our experiences, insights, what we'd been doing, what we've been learning, how we worked with leadership and the 'bioregion," what we longed for, how we could support one another, our NAME, what we hoped to become together, even a marvelous and dramatic telling of the universe story by Mary Margaret Howard. We chose the continuing vision for the network of 'Sharing the Wisdom, Shaping the Dream.'"